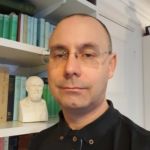 James Warren
James Warren is Professor of Ancient Philosophy at the University of Cambridge and a Fellow of Corpus Christi College.  He is currently completing a book on the moral psychology of regret in ancient philosophy, to be published by Oxford University Press.
Interviews with James Warren
For most of us, an Epicurean means someone devoted to pleasure and enjoying themselves. But the real Epicureans had a very different philosophy of how to live. Cambridge University professor James Warren talks us through the philosophy of Epicurus and explains how it's still relevant today—particularly when it comes to facing death.