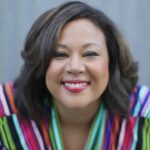 Jasmine Guillory
Jasmine Guillory is an American romance novelist. She is one of our most recommended romance authors on Five Books.
"Guillory writes such fun romances." Katherine D. Morgan, Five Books Romance Editor.
Books by Jasmine Guillory
"Guillory writes such fun romances, and although Royal Holiday is the fourth in her first series, it's one of my favorites of all time. It was actually the first romance I'd ever read where the main character, Vivian, is an older Black woman." Read more...
The Best Christmas Romance Books
Jasmine Guillory came out with Drunk on Love, and I have read and bought her entire backlist, so she's always worth a buy.
Interviews where books by Jasmine Guillory were recommended
Romance: it's one of the bestselling and most widely-read genres, with thousands of books published each year. But where to start? And which books are at the cutting edge of the genre? We turned to Frannie Strober Cassano, the Romance Writers of America's 2018 Librarian of the Year, for her choice of the best new romances published in the past 12 months.
Who wouldn't want someone to kiss under the mistletoe this Christmas time? Guest editor Katherine D. Morgan rounds up five of the best festive romance books to cozy up with by the fire with a mug of cocoa over the coming Christmas holidays.
Books by Jasmine Guillory