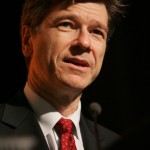 Jeffrey D Sachs
Jeffrey D Sachs is the director of The Earth Institute, Quetelet Professor of Sustainable Development and Professor of Health Policy and Management at Columbia University. He is also Special Adviser to United Nations Secretary-General Ban Ki-Moon. From 2002 to 2006, he was director of the UN Millennium Project and Special Adviser to United Nations Secretary-General Kofi Annan on the Millennium Development Goals. Sachs is president and co-founder of Millennium Promise Alliance. He is widely considered to be the leading international economic adviser of his generation. He is author of hundreds of scholarly articles and many books, including the New York Times bestsellers Common Wealth: Economics for a Crowded Planet and The End of Poverty.
Interviews with Jeffrey D Sachs
The prominent international economic adviser, Jeff Sachs, says we can reduce poverty by devoting just a modest fraction of our vast wealth to the effort.
Interviews where books by Jeffrey D Sachs were recommended