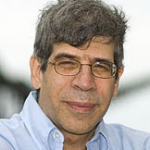 Books by Jerry Coyne
The writing at the end, when Coyne tries to explain why evolution is a wonderful thing, something to embrace rather than run away from, is really quite beautiful.
Interviews with Jerry Coyne
Evolutionary biologist Jerry Coyne tells us why Darwin is still essential reading and sifts the vast amount of more recent writing on evolution for books that are both inspiring to scientists and accessible to general readers. He picks the best books on evolution.
Embracing a scientific worldview excludes the possibility of also believing in God, says evolutionary biologist Jerry Coyne. He picks five non-accommodationist books.
Interviews where books by Jerry Coyne were recommended
It goes without saying that I have more than five favourite books and some important ones are missing from this page (even though I've cheated and included six). I suppose the nonfiction ones are books that opened doors for me in some way or enabled me to see the world more clearly, including professionally. The fiction ones are ones I was completely overexcited about when I read them.