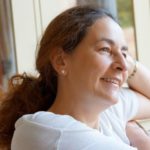 Jessica Duchen
Jessica Duchen writes words for, with and about music. She was a correspondent and critic for The Independent from 2004 to 2016, and her work has appeared in The Guardian, The Sunday Times and BBC Music Magazine, among others. Her output to date includes six novels and two biographies (Fauré and Korngold) and a quantity of stage works and librettos for musical setting.
Among her recent novels is Ghost Variations (Unbound, 2016), based on the true story of the Schumann Violin Concerto's rediscovery in the 1930s. Her novel about Beethoven, Immortal, will be published in the autumn of 2020. Jessica was born within the sound of Bow Bells, studied music at Cambridge and lives in London with her husband and two cats.
Books by Jessica Duchen
Immortal, by Jessica Duchen, is a historical novel that aims to solve the mystery of Beethoven's 'immortal beloved' letter, which was found in a drawer in his apartment after he died, and has led to endless speculation about who it was intended for. Jessica Duchen is a specialist music writer, and the book is being published by Unbound, the crowdfunded publisher.
Jessica Duchen spoke to us about the best books on Beethoven.
Interviews with Jessica Duchen
He was a much misunderstood man and one of the greatest composers who ever lived. Music critic and novelist Jessica Duchen talks us through the best books about the German composer and pianist, Ludwig van Beethoven.