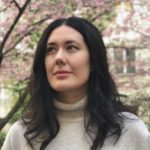 Jessica J. Lee
Jessica J. Lee is a British-Canadian-Taiwanese author and environmental historian, and winner of the 2019 RBC Taylor Prize Emerging Writer Award. She is the author of two books of nature writing: Turning (2017), on the lakes around Berlin, and Two Trees Make a Forest (2019), on Taiwan, family, and migration. She has written for The Guardian, BBC Radio 4, The TLS, and writes a column about plants and people for Catapult. Jessica is the founding editor of The Willowherb Review. She lives in Berlin.
Interviews with Jessica J. Lee
Writing about nature and landscape need not be stuffy or traditionalist. Jessica J Lee, editor of The Willowherb Review—a literary journal dedicated to diversity in nature writing—recommends five books that offer a breath of fresh air: encompassing the whole of life, from sex in the woods to birding in the city.