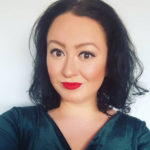 Joan Passey
Joan Passey is a lecturer in English at the University of Bristol where she specialises in Victorian seas and coasts in literature and culture, and Gothic literature from the eighteenth century to the present. Her edited anthology, Cornish Horrors: Tales from the Land's End was released by the British Library in 2021, and she is currently co-editing a collection of essays on the short fiction of Shirley Jackson with Rob Lloyd.
Interviews with Joan Passey
Shirley Jackson, the 20th-century horror author, has had a remarkable resurgence in popularity in recent years, with a series of screen adaptations bringing her writing to a new audience. Joan Passey, an academic at Bristol University and co-editor of an upcoming collection of essays on the 'mother of horror', selects five books that offer the best introduction to Shirley Jackson's work.