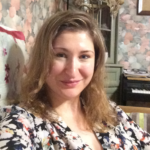 Julia Griffin
Julia Griffin is a Courtauld-trained art historian and curator specialising in the Arts & Crafts Movement and Victorian painting. Her PhD explores William Morris and D.G. Rossetti's occupancy of Kelmscott Manor (Central Saint Martins, UAL). Julia has been responsible for a number of exhibitions and permanent collection rehangs, notably the City's Collection Displays (2015) at the Guildhall Art Gallery, for which she was awarded Freedom of the City of London. Recent publications include contributions to May Morris. Art and Life (William Morris Gallery: 2017) and the Routledge Research Companion to William Morris (2020), as well as Young Poland: The Arts and Crafts Movement, 1890-1918.
Interviews with Julia Griffin
Originating in 19th-century Britain, the Arts and Crafts movement was an international phenomenon extending across many media to Europe, America and Japan. Julia Griffin, who has examined its impact in Poland, tells us how it advanced notions of national identity and provided roots to modernism by establishing a sensitivity to materials, designs, and forms, a sensibility that is still with us today.