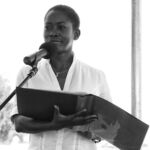 Karen Lord
Barbadian writer Dr. Karen Lord is the author of Redemption in Indigo, which won the William L. Crawford Award and the Mythopoeic Fantasy Award for Adult Literature, and was nominated for the World Fantasy Award for Best Novel. Her other works include the science fiction novels The Best of All Possible Worlds and The Galaxy Game, and the crime-fantasy novel Unraveling. She edited the anthology New Worlds, Old Ways: Speculative Tales from the Caribbean.
Interviews with Karen Lord
Many works of science fiction and fantasy involve a character changed forever after they meet a powerful being—sometimes a god, sometimes a not-quite-god. Karen Lord, an award-winning sci-fi author whose latest novel combines the seductive powers of celebrity and alien contact, recommends five books where gods or god-like beings turn the hero's world upside down.