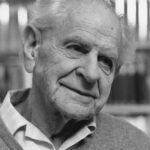 Karl Popper
Karl Popper (1902-1994) was "one of the most important philosophers of science of the 20th century, and also a very significant social science commentator. People know him for promoting the scientific method and combatting the idea that truth is a social construction and that kind of argument. He has a really important role to play in the whole conversation around post-truth because he's saying, 'No. There is reality, and we can get at it.'"—Nick Enfield, professor of linguistics at the University of Sydney, in an interview on 'Language and Post-truth.'
Books by Karl Popper
"In an interview, when David Deutsch was asked what the best book to read by Karl Popper was, he said The Myth of the Framework. That's what directed me to the book. It's phenomenal. It's quite accessible and it's very readable…The myth of the framework is that you can't have a useful discussion unless you're working within the same framework as the other person…That's a myth. You have to have a clash of cultures, that's the term that he uses. You won't make any progress if you have the same framework as the other person" Read more...
The best books on Language and Post-Truth
Nick Enfield, Linguist
"This book helped me to think in a different way, gave me a strategy of looking for an alternative narrative in society." Read more...
Kurt Barling, Broadcaster
Interviews where books by Karl Popper were recommended
The concept of 'race' is misleading and inaccurate, argues Kurt Barling, Professor of Journalism at the University of Middlesex and author of The R Word: Racism and Modern Society. He recommends the best books to think about racism.
The word 'post-truth' may only have entered the Oxford English Dictionary in the last decade, but the phenomenon it describes is much older and deeper, connected not so much to the latest internet trend as the fundamentals of human cognition and communication. Here, linguistic anthropologist Nick Enfield, a professor at the University of Sydney and a member of its fighting truth decay research node, introduces the best books to get thinking about the complex relationship between language and reality.