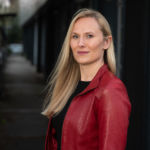 Books by Kate Kirkpatrick
Interviews with Kate Kirkpatrick
Simone de Beauvoir is remembered today as the pioneering feminist author of The Second Sex and a close companion of Jean Paul Sartre. But the scope of her intellectual contribution has long been underestimated, argues her latest biographer Kate Kirkpatrick, who offers an introduction to the landscape of Beauvoir's works, from fiction to philosophy to life writing.
Interviews where books by Kate Kirkpatrick were recommended
We live in a golden age for philosophy books that are accessible to a wide audience. In the pages of even quite short books, we can find new ways of reflecting on who we are and how we should conduct ourselves in the world, as well as learn more about the brilliant thinkers who trod these paths before us. Our philosophy editor Nigel Warburton talks us through some of the best philosophy books that came out in 2019.
Books by Kate Kirkpatrick