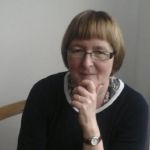 Kate Milner
Kate Milner studied Illustration at Central St Martin's before completing the MA in Children's Book Illustration at Anglia Ruskin University. Her work has been published in magazines and her illustrations and prints have been shown in London galleries and national touring exhibitions. Kate won the V&A Student Illustration Award in 2016.
Interviews with Kate Milner
Kate Milner, winner of the prestigious Klaus Flugge Prize, discusses some of the trailblazing illustrators that have inspired her own career. She heralds artists whose imaginative works have given us some of the most exuberant storytelling for children over the last 50 years.