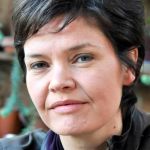 Kate Raworth
Kate Raworth is a renegade economist focused on exploring the economic mindset needed to address the 21st century's social and ecological challenges, and is the creator of the Doughnut of social and planetary boundaries.
Books by Kate Raworth
I have tried to write the book that I wish I could have read when I first went to university to study economics. Growing up in the 1980s and seeing a hole in the ozone layer, famine in Ethiopia, and the Exxon Valdez spewing out its oily contents into Alaska's waters, I left school knowing I wanted to work for an organisation like Oxfam or Greenpeace, and I believed that the best thing I could do was to equip myself with the mother tongue of public policy: economics. I thought that if I understood economics then I'd be able to address these issues and help tackle poverty, social injustice and environmental degradation. I had a fascinating education at university, with brilliant tutors, but I found that mainstream economics brushes these issues to one side. It talks, for example, about the environment in terms of 'environmental externalities'—well if you're going to talk about the living world as an externality then you've already told me how important it isn't.
Many of the issues I cared about, I had to hunt for around the margins of the syllabus, so in the end, I walked away from academic economics. But after working in the villages of Zanzibar for three years, with the United Nations for four, and then a decade with Oxfam—immersing myself in real-world economic challenges—I realised that we're not going to get to the root cause of these issues unless we rewrite economic theory to make it fit for our own times. Many people think economics is essentially about equations but underlying every equation is a model, and underlying each model is a very basic visual diagram that sneaks so quietly into the backs of our heads that we don't even realise it's there, shaping how we think from the get-go. I wanted to change this.
The Best Book on Rethinking Economics
Interviews with Kate Raworth
Economic orthodoxy in no way equips for the challenges of the 21st century, the 'renegade economist' Kate Raworth tells Five Books. It's time to rethink basic concepts and paradigms, and redraw the boundaries.
Interviews where books by Kate Raworth were recommended
The long-term interests of business often coincide with the long-term interests of nature and society but the short-term interests are a different story, says Vincent Stanley of Patagonia, a multi-billion dollar apparel company owned by a non-profit trust. He recommends five books on sustainable, ethical business, showing that a stock price needn't be a company's primary product.
Writer and investigative journalist George Monbiot recommends books that have shaped him, and that are crucial reading for those wishing to navigate the current economic and environmental crises.