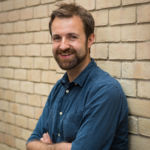 Kit Yates
Kit Yates is a mathematical biologist and Senior Lecturer in the Department of Mathematical Sciences at the University of Bath. He is the author of The Math of Life and Death, a very readable book that uses stories to highlight the importance of applied math in daily life. He also gives some tips and tricks for real life situations where math is important, such as how worried to be by test results from the doctor or how to interpret health stories in newspapers.
Books by Kit Yates
The Math of Life and Death, by Kit Yates, a senior lecturer in mathematical biology at the University of Bath, is an excellent popular math book, demonstrating the many times math plays a critical role in our daily lives—often without us even knowing it.
Kit Yates chose the Best Math Books of 2019 for us. Is math really a matter of life or death? He spoke to us about his book in a Q&A. 
Interviews with Kit Yates
As math becomes increasingly important in our daily lives, eminent mathematicians and statisticians have stepped up to the plate, writing books that are engaging for non-experts—and sometimes even funny. Kit Yates, a mathematical biologist and author of The Math of Life and Death, recommends the best math books of 2019.