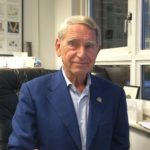 Klaus Flugge
Klaus Flugge was born in Hamburg in 1934. In 1976 he launched children's book publisher Andersen Press, named after Hans Christian Andersen. The roll call of artists Klaus Flugge has worked with on children's books reads like a textbook on illustration: David McKee, Tony Ross, Satoshi Kitamura, Michael Foreman, Susan Varley, Emma Chichester Clark, Sir Quentin Blake, Chris Riddell, Ruth Brown and David Lucas, to name but a very few.
In 1999, he became the first publisher to receive the Eleanor Farjeon Award for outstanding contribution to British children's books and in 2010 he was awarded honorary membership of the Youth Libraries Group. In 2013, Klaus was made an honorary citizen of the City of Bologna in recognition of his commitment to children's books abroad.
Interviews with Klaus Flugge
Since founding Andersen Press in 1976, Klaus Flugge has published some of the most well-known and best-loved names in the world of children's books– he has launched the careers of some of our best-loved picture book illustrators, from Quentin Blake and Chris Riddell to David McKee, Tony Ross, Michael Foreman and Emma Chichester Clark. Here he expounds on his favourite books and why laughter is his favourite subject.