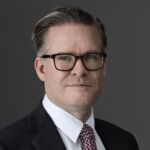 Lars Christensen
Lars Christensen is a Research Associate at Stellenbosch University as well as a Senior Lecturer at the Copenhagen Business School. He is a member of the advisory board of Life + Liberty Indexes and the owner and founder of Markets and Money Advisory. He has worked as an economist for the Danish government and for Danske Bank. He is the author of  Milton Friedman – en pragmatisk revolutionær (Milton Friedman – a pragmatic revolutionary).
Books by Lars Christensen
I have myself written a book on Milton Friedman. Unfortunately for non-Danish-speaking audiences, it's in Danish. In that book I called Milton Friedman a pragmatic revolutionary. What Milton Friedman did, both in his academic work on economic theory and history, monetary policy and so forth, and as a policy advocate deeply engaged in policy debates, was to take things and make them very, very easy to understand. And he was able to convince people of his argument by making those arguments very logically.
The best books on Monetary Policy recommended by Lars Christensen
Interviews with Lars Christensen
Monetary policy isn't just about setting interest rates and if we think about it in those terms, we'll never really understand it, says Danish economist Lars Christensen. Here, he recommends books to better understand monetary policy, and explains why reading about the past is so important for avoiding mistakes in the future.
Books by Lars Christensen