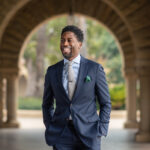 Lerone Martin
Lerone Martin is the Martin Luther King, Jr., Centennial Professor in Religious Studies and Director of the Martin Luther King, Jr. Research and Education Institute at Stanford University. He is the author of the award-winning Preaching on Wax: The Phonograph and the Making of Modern African American Religion (New York University Press, 2014).  His commentary and writing have been featured on CNN, CSPAN, Newsy, NBCLX, and PBS as well as The New York Times, Boston Globe, and the Atlanta Journal-Constitution.
Interviews with Lerone Martin
The struggle for Black freedom in America has been going on since the first enslaved Africans were brought to the continent, but it was the civil rights era of 1954 to 1968 that finally resulted in a raft of legislation that gave equal citizenship to Black people in the United States. Here, Professor Lerone Martin of Stanford University recommends the best books to understand the American civil rights movement, with a focus on some of the individuals who were key to its success.