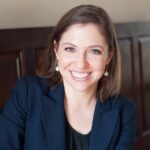 Lindsay Chervinsky
Lindsay Chervinsky is a historian of the United States presidency, political culture, and government, especially the president's cabinet.
Books by Lindsay Chervinsky
Interviews with Lindsay Chervinsky
In contrast to many other countries, the secretaries who serve in the United States cabinet aren't chosen from among the country's elected officials but entirely reflect the president's personal choices. Here, presidential historian Lindsay Chervinsky, author of The Cabinet: George Washington and the Creation of an American Institution, talks us through the role of the cabinet and recommends which books to read to understand more about it.
Books by Lindsay Chervinsky