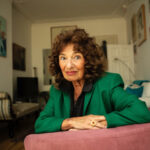 Lisa Appignanesi
Lisa Appignanesi OBE is a prize-winning writer, novelist and cultural commentator. Her non-fiction includes Everyday Madness: On Grief, Anger, Loss and Love; Trials of Passion: Crimes in the Name of Love and Madness, All About Love: Anatomy of an Unruly Emotion; Mad, Bad and Sad: A History of Women and the Mind Doctors from 1800 to the Present; Freud's Women (with John Forrester); and a biographical portrait of Simone de Beauvoir. She is also the author of an acclaimed family memoir, Losing the Dead and nine novels, including The Memory Man and Paris Requiem. She was the Chair of the Man Booker International Prize 2018, for many years Chair of the Freud Museum London and President of English PEN. A former Deputy Director of London's Institute of Contemporary Arts, she has judged many literary prizes. She is a Visiting Professor in Literature and Medical Humanities at King's College London and was made a Chevalier de l'Ordre des Arts et des Lettres in recognition of her contribution to literature. She was awarded the OBE for services to literature in 2013. She was elected Chair of the RSL in 2016.
Books by Lisa Appignanesi
Interviews with Lisa Appignanesi
Born into a middle-class Jewish family in Moravia in the Austro-Hungarian empire, Sigmund Freud spent most of his life in Vienna, until fleeing to London just before his death in 1939. Using his classical education to illustrate his points, he introduced the idea that we have an 'unconscious' that plays an important role in our actions. For his sessions when patients talked freely to him about their thoughts in a one-on-one setting, he coined the term 'psychoanalysis.' Freud expert Lisa Appignanesi talks us through books that shed light on his life as well as his work.
Books by Lisa Appignanesi