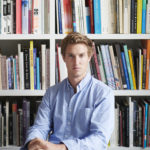 Lucas Zwirner
Lucas Zwirner, Head of Content at David Zwirner Books, joined the gallery in 2015 to oversee the editorial direction of the gallery's publishing house. At David Zwirner Books he began the ekphrasis series, dedicated to publishing short texts on visual culture by artists and writers, rarely available in English. He has also written on numerous contemporary artists and translated books from German and French. Since June 2018, Lucas has hosted the audio series Dialogues: The David Zwirner Podcast, which is an open-ended conversation between two extraordinary artists or cultural leaders from the worlds of art, architecture, film, and music about how art shapes, elevates, and shifts our point of view—and the often surprising twists and turns of the creative process. Season two of the podcast will launch in September 2019.
Interviews with Lucas Zwirner
The next release in the ekphrasis series from David Zwirner Books is Oscar Wilde's The Critic as Artist, including an introduction by Michael Bracewell and a colour portrait of Wilde by Marlene Dumas. Head of Content Lucas Zwirner talks to Five Books about the inspiration he's drawn from literary letters and how they inform the editorial direction of the publishing house.