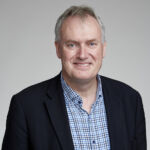 Luke O'Neill
is Professor of Biochemistry in the School of Biochemistry and Immunology, Trinity Biomedical Sciences Institute at Trinity College Dublin, Ireland. He is a world expert on innate immunity and inflammation, and is listed by Thompson Reuters/Clarivates in the top 1% of immunologists in the world, based on citations per paper. He is a member of the Royal Irish Academy, EMBO (European Molecular Biology Organisation) and a Fellow of the Royal Society. He was the chair of the 2021 judging panel for the Royal Society Science Book Prize.
Interviews with Luke O'Neill
Every year the Royal Society, the world's oldest independent scientific academy, awards a prize for the best new popular science book. Here, Luke O'Neill—Professor of Biochemistry at Trinity College, Dublin, and chair of the 2021 judging panel—discusses the latest shortlist: six new popular science books that are topical, accessible and infinitely interesting.