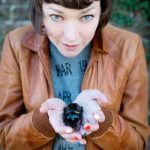 M G Leonard
M. G. Leonard is the bestselling author of Beetle Boy and Beetle Queen, as well as a writer of books, poems and screenplays. She has a first-class honours degree in English literature and an MA in Shakespeare Studies from Kings College London. She works as a freelance Digital Media Producer for clients such as the National Theatre and Harry Potter West End, and previously worked as a Senior Digital Producer at the National Theatre, the Royal Opera House and Shakespeare's Globe. She spent her early career in the music industry running Setanta Records, an independent record label, and managing bands, most notably The Divine Comedy. After leaving the music industry, she trained as an actor, dabbling in directing and producing as well as performing, before deciding to write her stories down.
Interviews with M G Leonard
Author M G Leonard talks about the importance of getting our children engaged with the natural world. She recommends her favourite nature books for kids.