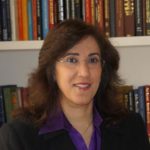 Madawi Al-Rasheed
Madawi Al-Rasheed is Visiting Professor at the Middle East Centre, London School of Economics. Her research focuses on history, society, religion and politics in Saudi Arabia and the Gulf. Among her recent books are A Mostly Masculine State: Gender, Politics and Religion in Saudi Arabia (CUP 2013), Muted Modernists: the Struggle over Divine Politics in Saudi Arabia (Hurst 2015) and Salman's Legacy: the Dilemmas of a New Era (Hurst 2018).
Books by Madawi Al-Rasheed
Interviews with Madawi Al-Rasheed
Saudi Arabia is one of the most misunderstood countries on earth. Here Saudi-born anthropologist, Madawi Al-Rasheed, chooses five books to help understand the country, its society and the very modern challenges it faces.
Books by Madawi Al-Rasheed