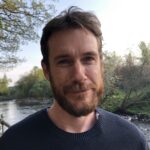 Malachy Tallack
Malachy Tallack is the award-winning author of four books, as well as an occasional singer-songwriter. His most recent book is Illuminated by Water, which was shortlisted for the Richard Jefferies Award for nature writing. Malachy is from Scotland's Shetland Islands, and currently lives in Fife.
Interviews with Malachy Tallack
Fishing as an activity offers the hobbyist an excuse to leave everyday worries on the shore; it's an opportunity for solitude, and for deep, even meditative, appreciation of the natural world. Here, Malachy Tallack—the keen angler and author of fly-fishing memoir Illuminated by Water, selects five of the best books on fishing.