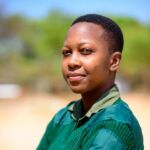 Margaret Darawanda
Margaret Darawanda was planning to become a teacher, but when the International Anti-Poaching Foundation established an all-women armed unit in 2017, she decided to join the conservation effort. She works to protect animals and habitats in the Phundundu Wildlife Area in Zimbabwe.
Interviews with Margaret Darawanda
Children tend to be fascinated with animals, and wild animals particularly capture the imagination. Margaret Darawanda, an Akashinga ranger in the Lower Zambezi Valley, talks us through her pick of books for kids about animals in the wild.