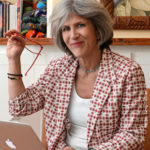 Marion Winik
University of Baltimore professor Marion Winik is the author of The Big Book of the Dead and winner of the 2019 Towson Prize for Literature. Among her ten other books are First Comes Love and Above Us Only Sky. Her essays have appeared in publications including The New York Times Magazine and The Sun. A board member of the National Book Critics Circle, she writes book reviews for People, Newsday, The Washington Post, and Kirkus Reviews. She was a commentator on NPR for fifteen years; her honours include an NEA Fellowship in Creative Nonfiction.
Interviews with Marion Winik
Autobiography is evolving; increasingly we find the field dominated by 'genre-fluid' books that plait memoir together with strands of cultural criticism, history, journalism or even poetry. Here, Marion Winik, the memoirist and critic, talks us through the five books that have been shortlisted in the National Book Critic's Circle autobiography category—and describes the face of memoir in 2022.
From fleeing the Liberian civil war to selling pot brownies in San Francisco, the finalists for the 2021 National Book Critics Circle award for the best autobiography offer five vivid life stories, told expertly. Critic, broadcaster and author Marion Winik talks us through the brilliant memoirs that made the 2021 shortlist.