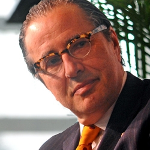 Mark Bloomfield
Mark Bloomfield is a Washington DC-based lobbyist. He is president and CEO of the American Council for Capital Formation and also a Senior Fellow at Georgetown University's McDonough School of Business.
Interviews with Mark Bloomfield
Is lobbying always a bad thing? Or can it be used to effect social change? Washington insider Mark Bloomfield gives a lobbyist's perspective. He picks the best books on lobbying.