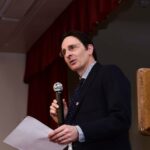 Mark Webber
Mark Webber is Professor of International Politics at the University of Birmingham. A NATO specialist and a one-time scholar of Russia and the former Soviet Union, his recent work in these areas has been published in the journals International Affairs, European Journal of International Security, Review of International Studies, European Security, West European Politics, and Journal of European Integration. He is co-editor (with Adrian Hyde-Price) of Theorising NATO: New Perspectives on the Transatlantic Alliance and the co-author (with James Sperling and Martin Smith) of What's Wrong with NATO and How to Fix It. Webber is currently 2022 Senior Eisenhower Defence Fellow at the NATO Defence College.
Books by Mark Webber
ed. Mark Webber and Adrian Hyde-Price
Interviews with Mark Webber
With all eyes on the Russian invasion of Ukraine, it's a good time to educate yourself on the role of the North Atlantic Treaty Organisation (NATO) in post-war Europe. Here, University of Birmingham political scientist Mark Webber offers five book recommendations on the history, aims and ideals of NATO.