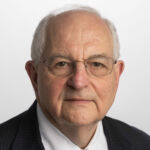 Martin Wolf
Martin Wolf is chief economics commentator at the Financial Times, London. He was awarded a CBE or Commander of the British Empire in 2000 "for services to financial journalism."
Books by Martin Wolf
The Crisis of Democratic Capitalism is the magnum opus of Martin Wolf, chief economics commentator of the Financial Times. In the preface, he explains why he wrote the book: "In the middle of the eighth decade of my life, I see a long historical circle—a circle that includes not just my life but also those of my parents." He goes on to tell the story of how his parents (one from Poland, one from the Netherlands) fled for their lives as the Nazis were taking over Europe. "The 20th was a century of monstrous dictators," he writes. Unfortunately, "The dictators have returned." He lays the blame for that firmly on economic problems, for while "economics is not everything…it is the foundation of almost everything." The book covers Wolf's assessment on most issues relating to politics and economics: voting systems, GDP, avoiding war with China, Univeral Basic Income, market concentration. As well as analysis he suggests solutions, advocating a Karl Popper approach of "piecemeal social engineering."
"Wolf's book makes, in the most effective way I have seen, the classical economic arguments for openness. At root, the argument for free trade is not anything fancy and analytical. It's that you and I won't engage in an exchange unless we're both better off and if we're both better off, why should anyone else object, unless our exchange is inflicting some harm on someone else? What Wolf elucidates is all the benefits of exchange. Exchange promotes specialization and the division of labor, as Adam Smith pointed out. Exchange promotes comparative advantage, everyone gets to do what they do best. Exchange promotes competition, which is a huge spur to efficiency…As shown by Brexit and the rise of Trump, what happens far away is not the most pressing concern to people in industrial democracies, particularly when the economies of industrial democracies are struggling. But, ultimately, a world in which poor countries stay poor and in which rich countries are pursuing policies that are actively keeping them poor is very unlikely to be a stable or a successful world. That's why the lessons of Wolf's book are very powerful." Read more...
The best books on Globalization
Larry Summers, Economist
Financial Times chief economics commentator Martin Wolf's account of the financial crisis and its lessons.
Interviews with Martin Wolf
Problems in the world economy can have a profound impact on politics. What's happening in the US and elsewhere is disturbing, says Martin Wolf, chief economics commentator of the Financial Times. He talks us through books to help us reflect on the challenges facing economies. His recommendations include two books that query whether the era of unprecedented economic growth—which has transformed our societies over the last 150 years—is finally coming to an end.
Interviews where books by Martin Wolf were recommended
Globalization benefits mankind and we are learning how better to deal with the disruption it causes. But one thing is for sure, the laws of economics are no more escapable than the laws of physics. Harvard professor and former US Treasury secretary, Larry Summers, recommends the best books on globalization.