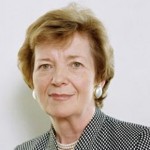 Mary Robinson
Mary Robinson is the President of Realizing Rights: The Ethical Globalization Initiative and founder of the Foundation for Climate Justice. Mary Robinson was the first woman President of Ireland (1990-1997) and is former United Nations High Commissioner for Human Rights (1997-2002). She is a member of the Elders, co-founder and former Chair of the Council of Women World Leaders and Vice President of the Club of Madrid. She is chair of the GAVI Alliance Board. She chairs the Fund for Global Human Rights and is Honorary President of Oxfam International and Patron of the International Community of Women Living with AIDS (ICW). She is President of the International Commission of Jurists.
Books by Mary Robinson
This book shows the extraordinary degree to which early feminists of the 18th century were able to look clearly at the sexual mores of their time
Interviews with Mary Robinson
The former United Nations High Commissioner for Human Rights and President of Ireland picks the best books to read on climate justice.
Interviews where books by Mary Robinson were recommended
The roots of our (generally) open attitude to sex lie not in the sixties but the 1760s, says the historian and author of The Origins of Sex, who explores this earlier sexual revolution through its literature.