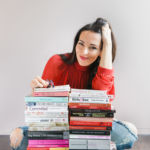 Mia Levitin
Mia Levitin is a cultural and literary critic, and the author of The Future of Seduction. Her work features regularly in publications including the Financial Times, The Spectator and the Guardian.
Interviews with Mia Levitin
"Love," wrote Ovid, "is no assignment for cowards." Cultural critic Mia Levitin talks us through the history of seduction from the Classical era, through ballroom dancing, calling cards and into the present age of swiping on our mobile phones. Here she recommends five of the best books for those braving the modern dating scene.