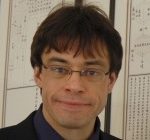 Michael Puett
Michael Puett is the Walter C. Klein Professor of Chinese History in the Department of East Asian Languages and Civilizations and the Chair of the Committee on the Study of Religion at Harvard University. He is the recipient of a Harvard College Professorship for excellence in undergraduate teaching.
Books by Michael Puett
Confucius, C.C. Tsai (illustrator), Brian Bruya (translator), Michael Puett (foreword)
" Based on Michael Puett's incredibly popular lecture courses on Chinese Philosophy at Harvard University, this book provides a way into the ideas of a number of the great Chinese philosophers, including Confucius, Mencius, Laozi, Zhuangzi, and Xunzi. This makes it sound a tougher read than it is. In fact, this book is both entertaining and challenging at the same time" Read more...
Summer Reading: Philosophy Books to Take On Holiday
Nigel Warburton, Philosopher
Interviews with Michael Puett
What do the sages of ancient China have to teach us about living in the 21st century? The Harvard professor and author of The Path, Michael Puett, recommends the texts you need to read to find out. He picks the best Chinese philosophy books.
Interviews where books by Michael Puett were recommended
Sea, sun and Socrates: what more could you want for the perfect holiday? Our philosophy editor Nigel Warburton, whose own book has had considerable success as a beach read, unveils his philosophy book holiday reading list.
Philosophy raises fundamental questions about the world around us and how we should live our lives. Fortunately, a range of popular books now available mean you too can grapple with some of these issues. Philosopher and author Nigel Warburton picks his favourite philosophy books of 2016.