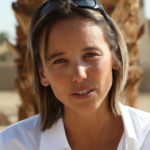 Michelle Jana Chan
Michelle Jana Chan is an award-winning journalist who began her career with Newsweek magazine in New York, Beijing and London, before moving into radio and then television as a news producer for CNN. She is now travel editor of Vanity Fair, a contributing editor at Conde Nast Traveller and a presenter of the BBC's Global Guide. She writes regular columns for Conde Nast Traveller and for The Daily Telegraph. Michelle was named travel writer of the year at the 2016 Travel Media Awards.
Books by Michelle Jana Chan
Interviews with Michelle Jana Chan
A sense of displacement is at the heart of many of our greatest works of literature. Here Vanity Fair travel editor Michelle Jana Chan discusses five brilliant novels dealing with this theme that influenced her debut Song.
Books by Michelle Jana Chan