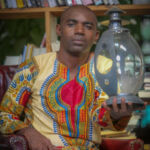 Mutt-Lon
Mutt-Lon is the literary pseudonym of author Nsegbe Daniel Alain. His first novel, Ceux qui sortent dans la nuit (Those Who Come Out at Night, 2013), brought him critical acclaim when it received the prestigious Ahmadou Kourouma Prize in 2014. Les 700 aveugles de Bafia (2020), published in English as The Blunder, is his third novel and the first to be translated into English. He lives in Douala, Cameroon.
Books by Mutt-Lon
The Blunder by Mutt-Lon, the pen name of Nsegbe Daniel Alain, is a historical novel set in early 20th century Cameroon, when the country was split between French and English colonial administrations. It's based on the true story of Dr. Eugène Jamot, a French military doctor whose head still graces a monument outside the Ministry of Public Health in Yaoundé, the capital, but whose legacy is decidedly mixed. The book is a revealing, refreshing and entertaining read, written in French and translated into English by Amy Reid.
Interviews with Mutt-Lon
The award-winning Cameroonian novelist Mutt-Lon selects five of the best recent novels from Francophone Africa, including Mohamed Mbougar Sarr's Prix Goncourt-winning La plus secrète mémoire des hommes. These novels, he notes—as with many others from West and Central Africa—are united by a common search for identity in post-colonial Africa.