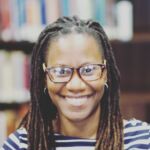 Myisha Cherry
Myisha Cherry is an assistant professor of philosophy at the University of California, Riverside. Her research interest lies at the intersection of moral psychology and social and political philosophy. More specifically she is interested in the role of emotions and attitudes in public life.
Books by Myisha Cherry
by Myisha Cherry and Owen Flanagan (editors)
***🏆  A Five Books Book of the Year ***
"Cherry's argument is that the energy and the possibility of collective channelled action, inspired by rage, justifies this approach, and makes it superior to a more neutral response to something as outrageous as the cold-faced racism in Charlottesville, for instance." Read more...
The Best Philosophy Books of 2021
Nigel Warburton, Philosopher
Interviews with Myisha Cherry
In many philosophical and religious traditions, anger is regarded as a useless emotion that's best avoided but it can play a vital role in the fight against injustice. American philosopher Myisha Cherry, author of The Case for Rage, recommends books that shed light on how to be angry productively.
Interviews where books by Myisha Cherry were recommended
Nigel Warburton—the philosopher, broadcaster and creator of the popular Philosophy Bites podcast—selects five of the best public philosophy books published in 2021, including a defence of righteous rage, an examination of the concept of 'time management,' and an intellectual biography of the political philosopher and Holocaust survivor Hannah Arendt.