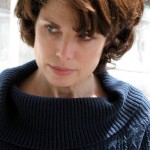 Interviews with Nancy Goldstone
In her book The Rival Queens, historian Nancy Goldstone explored the destructive relationship between Marguerite de Valois and her mother Catherine de' Medici. Here she chooses five different memoirs that best explore the emotionally complex dynamics that characterise mother-daughter relationships.
The author of The Maid and the Queen takes us on an enjoyable ride through European history, looking at well-connected women who outwitted their husbands or asserted their independence.