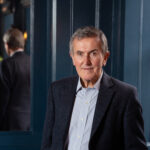 Neil MacGregor
Neil MacGregor is a British cultural historian, broadcaster and writer. He grew up in Glasgow, studied Modern Languages at Oxford, then—in 1968—18th century French Literature in Paris. He was called to the Bar in Edinburgh and went on to study History of Art at the Courtauld Institute, where he worked closely with Anthony Blunt and Anita Brookner. He edited The Burlington Magazine before becoming, in 1987, director of the National Gallery in London. During his tenure there he fought to maintain free public access to great paintings and made a number of BBC television series touching on works in the collection. His book, Seeing Salvation: Images of Christ in Art, was published in 2000.
Interviews with Neil MacGregor
The Booker Prize is awarded each year to the best original novel written in the English language. We asked the art historian Neil MacGregor, chair of this year's judging panel, to talk us through the six novels that made the 2022 shortlist—and why fiction can be a most effective means of engaging us emotionally in social and political crisis elsewhere.