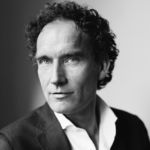 Onno Blom
Onno Blom (1969) is a writer, biographer, and columnist for de Volkskrant daily newspaper. He also works as a literary critic for national radio and presented a Dutch television series called The Riddle Rembrandt (2019). He was raised in Leiden and published several books about writers and painters from his home town. In 2018 he was awarded the prestigious Dutch Biography Prize for his book on the life of the sculptor, painter and writer Jan Wolkers, which attracted controversy and became a bestseller in the Netherlands.
Interviews with Onno Blom
Though he left more self-portraits to posterity than practically any Old Master, there remains an air of mystery around Rembrandt the man—even on the 350th anniversary of his death. Piecing together the very few personal letters and documents left behind, Onno Blom has now reconstructed Rembrandt's formative years in Young Rembrandt. Here he guides us through five of the most authoritative—and imaginative—accounts of the artist.