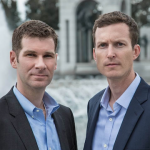 P W Singer and August Cole
Peter Warren Singer is Strategist and Senior Fellow at the New America Foundation, author of multiple award-winning books, and a contributing editor at Popular Science.
August Cole is a nonresident senior fellow at the Brent Scowcroft Center on International Security at the Atlantic Council. He is also director of the Art of Future War project, which explores narrative fiction and visual media for insight into the future of conflict. Previously, he was defense industry reporter for the Wall Street Journal.