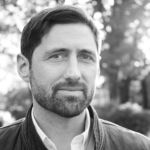 Phil Klay
Phil Klay is a veteran of the U.S. Marine Corps. His short story collection Redeployment won the 2014 National Book Award for Fiction and the National Book Critics' Circle John Leonard Prize for best debut work in any genre, and was selected as one of the 10 Best Books of 2014 by the New York Times. His nonfiction work won the George W. Hunt, S.J., Prize for Journalism, Arts & Letters in the category of Cultural & Historical Criticism in 2018. His writing has appeared in The New York Times, The Washington Post, The Wall Street Journal, The Atlantic, The New Yorker, and the Brookings Institution's Brookings Essay series. He is on the Board of Arts in the Armed Forces and he currently teaches fiction at Fairfield University.
Books by Phil Klay
One of the goals of my book was to consider the reach of American power, the role that it plays throughout the world, the way that it reshapes societies far beyond our borders through the use of violent force. And I wanted to do that fairly but with an awareness about what assertion of America's power entails. The use of the word slaughter, in the poem, jars. So I thought that those lines had all the right resonances for the beginning of my book.
Phil Kay recommends the best books on VeteransVeterans
Redeployment emerged out of my attempt, after coming back from Iraq, to figure out what the hell I had experienced, what the hell people around me had experienced and America's relationship to what we'd experienced. After I started writing, the wars continued. I was comfortably in New York as terrible things sometimes happened to people who I had served with overseas. These stories are my attempt to figure out what that tells us about what it means to be an American at this time in history.
The intensity of war puts people's values to the test. Redeployment was a way for me to explore that process through the lives of twelve different characters.
Phil Kay recommend the best books on Veterans
Interviews with Phil Klay
While many of us in the West commemorate the contribution of war veterans and the soldiers who lost their lives on our behalf, there's also a tendency to see war as something distant and unconnected with our daily lives. Here Phil Klay, veteran of the US Marine Corps and award-winning novelist, recommends books that help bridge that gap—and capture the complicated relationship between soldiers and the societies on whose behalf they fight.