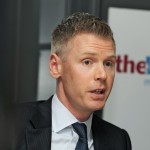 Philippe Legrain
Philippe Legrain was economic adviser to the President of the European Commission, José Manuel Barroso, from 2011 to February 2014, and head of the team that provides the president with strategic policy advice. His earlier career spanned academia, policy advice (as special adviser to World Trade Organisation director-general Mike Moore), journalism, political campaigning (at Britain in Europe, the pro-European campaign) and independent commentating, consultancy and advocacy. He is the founder of OPEN: the Open Political Economy Network, a new kind of think-tank functioning as an international platform for ideas, advocacy and debate on international political economy and openness issues in particular. His most recent book is European Spring: Why Our Economies and Politics are in a Mess — and How to Put Them Right. 
 
Books by Philippe Legrain
Interviews with Philippe Legrain
Europe should be run for all Europeans and not just the French and German banks, argues the author of European Spring, Philippe Legrain. He recommends the best books on Europe.
Books by Philippe Legrain