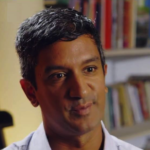 Ramesh Srinivasan
Ramesh Srinivasan is Professor, UCLA Department of Information Studies and Director of UC Digital Cultures Lab. He studies the relationship between technology, politics and societies across the world.
Interviews with Ramesh Srinivasan
Many of us are grateful to Silicon Valley for the convenience it's brought to our lives, whether shopping, looking up information or communicating with other human beings. But as tech companies become corporate behemoths influencing every aspect of modern life, many realize it's time to take action. Ramesh Srinivasan, UCLA professor and author of Beyond the Valley, recommends books for a more rounded understanding of Silicon Valley.