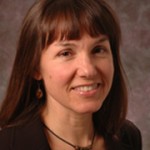 Regina Marchi
Regina Marchi is the author of Day of the Dead in the USA: The Migration and Transformation of a Cultural Phenomenon. A revised 2nd edition was published by Rutgers University Press in August 2022. She is associate professor of journalism and media studies at Rutgers University where she studies alternative forms of media, political communication and civic engagement, focusing on populations historically marginalized from official politics and news media due to their race, ethnicity, social class, immigration status, gender or age. She is also an affiliated faculty member in the Department of Latino and Caribbean Studies, the Center for Latin American Studies, and the Center for Race and Ethnicity at Rutgers.
Interviews with Regina Marchi
The Latin American holiday commemorating dead relatives is characterised by altars decorated with skulls and marigolds, explains Regina Marchi, author of a book on how the festival has now migrated to the American mainstream.