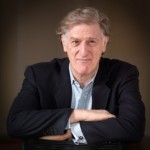 Richard Cohen
Richard Cohen, five times UK national sabre champion, is the author of the acclaimed history of sword fighting, By the Sword. He has worked in publishing and has written for The New York Times, The Guardian, The Observer and The Daily Telegraph, among others. In 2004 he was appointed Visiting Professor of Creative Writing at Kingston University and is the recipient of a Sloan Foundation grant for his latest book Chasing the Sun. He lives in New York City.
Books by Richard Cohen
Different voices have different things to tell us. In my book I have chapters not only on the sun and literature but the sun in music, the sun in art, in film, photography, architecture, which illustrates how the sun gets into everything. I mention Mark Twain almost as much as any other writer.
In writing my book I went to 20 countries around the world. From Norway to the Antarctic to India…all over the world. And I wouldn't say every place I went to Twain had been there before me, but an awful lot of them. In A Yankee in the Court of King Arthur, Twain talks about how the Yankee who is going to be put to death knows there is going to be a solar eclipse and says to his captors, 'I'm going to put out the sun.' He uses that as a kind of blackmail, because of course the solar eclipse arrives on time and he says, right, well I'll put it back for you if you'll free me. But that is a total cheat from something Columbus did in real life. And Rider Haggard uses the same idea in King Solomon's Mines. And Hergé does the same thing in Tintin.
Interviews with Richard Cohen
It makes us feel sexy, it makes us feel healthy and it can even make us feel more inspired. No wonder we're in thrall to the power of the sun, says Richard Cohen