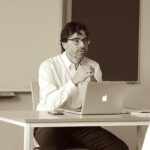 Robert Clewis
Robert R. Clewis is a professor of philosophy at Gwynedd Mercy University, Pennsylvania, and directs the Institute for the Study of Aesthetics and Its History. He is the editor of The Sublime Reader (2019). His latest books include The Origins of Kant's Aesthetics (2023) and Kant's Humorous Writings: An Illustrated Guide (2020).
Interviews with Robert Clewis
Whenever we go in search of rugged landscapes, thundering waterfalls or awesome vistas, we are in search of 'the sublime'—an aesthetic quality that has been the subject of significant philosophical, artistic and psychological study. Here, philosopher Robert Clewis talks us through the landmark studies of the sublime, and makes some recommendations for those seeking introductory books on the subject.