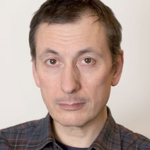 Robert Cottrell
Robert Cottrell is the editor of The Browser. In a previous life he was a foreign correspondent variously for The Economist, the Financial Times and The Independent in Hong Kong, Tokyo, Paris, Brussels and Moscow.
Interviews with Robert Cottrell
Newspaper journalism is on its way out, regrets the former foreign correspondent and Browser co-founder Robert Cottrell. He chooses four novels that reflect the golden days and a style guide that is an equally fine work of imagination.