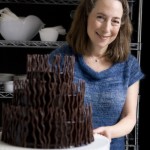 Rose Levy Beranbaum
Rose Levy Beranbaum is the author of many books on baking. Her first bestselling book, The Cake Bible, is currently on its 47th print run.
Books by Rose Levy Beranbaum
Interviews with Rose Levy Beranbaum
The bestselling author of The Cake Bible, Rose Levy Beranbaum, explains why English cakes don't rise, how to make the perfect croissant, and how to get holes the size of radishes in your artisan breads
Interviews where books by Rose Levy Beranbaum were recommended
The author, chef, and actress Madhur Jaffrey recommends five of her favourite cookbooks.
Yotam Ottolenghi, the accomplished chef, bestselling author and owner of several high-end London eateries, names the cookbooks he loves the most.
Books by Rose Levy Beranbaum