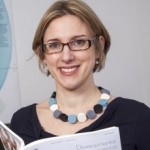 Sarah-Jayne Blakemore
Sarah-Jayne Blakemore is a Royal Society University Research Fellow and Professor of Cognitive Neuroscience at the Institute of Cognitive Neuroscience, University College London. She focuses on social cognitive neuroscience, and her research group studies the development of mentalising, emotions, action understanding and executive function during adolescence. 
Books by Sarah-Jayne Blakemore
Inventing Ourselves: The Secret Life of the Teenage Brain is a must read for any parents or teachers of teenagers or soon to be teenagers.
Drawing upon her cutting-edge research Professor Blakemore shows that while adolescence is a period of vulnerability, it is also a time of enormous creativity and opportunity. This book was the winner of the Royal Society Insight Investment Science Prize 2018.
Blakemore previously spoke to Five Books, recommending the best books on the mind and the brain.
This tribute to Uta brings together her former graduate students, post-doctoral scientists and collaborators in a series of papers that provide reflections on current theory and research. The volume bears the hallmark of Uta's mentoring by including critical 'state of the art' reviews, empirical research which challenges mainstream views and consideration of alternative hypotheses that set the stage for future research. Topics covered include behavioural and neuroimaging studies of autism, dyslexia, psychopathy, as well as theoretical and experimental accounts of normal and abnormal development of intelligence, reading and social cognition.
In this groundbreaking book, two leading authorities in the field review what we really know about how and when the brain learns, and consider the implications of this knowledge for educational policy and practice.
Interviews with Sarah-Jayne Blakemore
The Research Fellow at the Institute of Cognitive Neuroscience, UCL, discusses aspects of the relationship between the mind and the brain. Recommends books on autism, the allure of neuroscience, consciousness and maths
Interviews where books by Sarah-Jayne Blakemore were recommended
Aah, the holidays! Time to lie on the grass and read the latest novel. Or are you looking for something more demanding? Physicist and popular science author Jim Al-Khalili, who has just written his first sci-fi thriller, Sunfall, suggests some highly readable science books for those who prefer their holiday reads to be nonfiction.