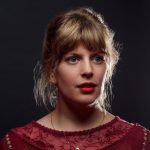 Sarah Perry
Sarah Perry is an English author, academic, and journalist. She has a PhD in creative writing from Royal Holloway University, where her supervisor was former poet laureate Sir Andrew Motion. Her novel, After Me Comes the Flood, was published to critical acclaim in 2014; her second book, The Essex Serpent was published in June 2016.
Books by Sarah Perry
Like The Signature of All Things, this stars another brilliant Victorian-era lady scientist – this time it's amateur palaeontologist and wealthy widow Cora Seabourne, who has come to investigate reports of a sea monster in the waters off the Essex coast in the hope that it might transpire to be a living fossil. Also like The Signature of All Things and Eleanor Oliphant, there's a starcrossed romance at the heart of this book. Strange and unsettling, this is a wonderful book full of fascinating detail, with a brilliant, headstrong woman at its heart.
From our article Books like Eleanor Oliphant is Completely Fine
Interviews with Sarah Perry
The Gothic puts flesh on the bones of our darkest fears, novelist Sarah Perry tells Five Books. Here, she chooses five favourite novels in this 'irresistible' genre.