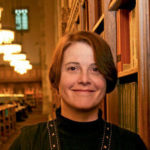 Sarah Ruden
Sarah Ruden is a Quaker author and translator, whose most recent books are her revised and expanded English Aeneid and a new English version of the Gospels. Her journalism concentrates on literature, religion, and human rights, and she is also an award-winning poet. She has won Guggenheim, Whiting, and Silvers awards for her books.
Interviews with Sarah Ruden
Virgil is one of the most influential poets in the history of Western literature. Here, another poet, Sarah Ruden, talks about the challenges of translating the Aeneid and why, although we know little about Virgil as a man, his great poem's take on the violence and power struggles it depicts is deeply ambivalent.