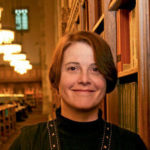 Sarah Ruden
Sarah Ruden is a Quaker author and translator, whose most recent books are her revised and expanded English Aeneid and a new English version of the Gospels. Her journalism concentrates on literature, religion, and human rights, and she is also an award-winning poet. She has won Guggenheim, Whiting, and Silvers awards for her books.
Books by Sarah Ruden
"One interesting book for fans of the great epic poem of the Augustus years, the Aeneid, is a literary biography of its author, Vergil. Vergil: The Poet's Life is by American scholar and translator Sarah Ruden. Other than his poem, we don't know much about the author, so Ruden has to do a lot of heavy lifting, but why not? Ruden recently translated the Aeneid, and you can also read her Five Books interview about Vergil." Read more...
Notable Nonfiction of Fall 2023
Sophie Roell, Journalist
Interviews with Sarah Ruden
Virgil is one of the most influential poets in the history of Western literature. Here, another poet, Sarah Ruden, talks about the challenges of translating the Aeneid and why, although we know little about Virgil as a man, his great poem's take on the violence and power struggles it depicts is deeply ambivalent.
Interviews where books by Sarah Ruden were recommended
As summer collapses into fall across the northern hemisphere, Five Books editor Sophie Roell takes a look at the nonfiction books that have been published over the last three months. Reading serious nonfiction books remains the easiest way to get up to speed on not only things you're already interested in, but lots of things you didn't know you didn't know.